ARE POSSUMS CAUSING YOU A PROBLEM? WE'VE GOT THE SOLUTION!
Possum Solutions are experts in removing possums from youR roof space.
Possum Solutions have been leaders in this area for over ten years. We are dedicated to providing an environmentally friendly possum removal service. Years of experience ensures that your building is properly inspected and all potential points of entry are identified. Quality workmanship will have your building restored back to its original condition and our unique one way door system will enable all possums to safely leave your roof space.
Introducing a complete pest control service Contact
David Today
0419 834 748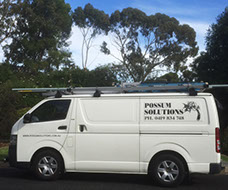 Pest Control Licence 2016-84441